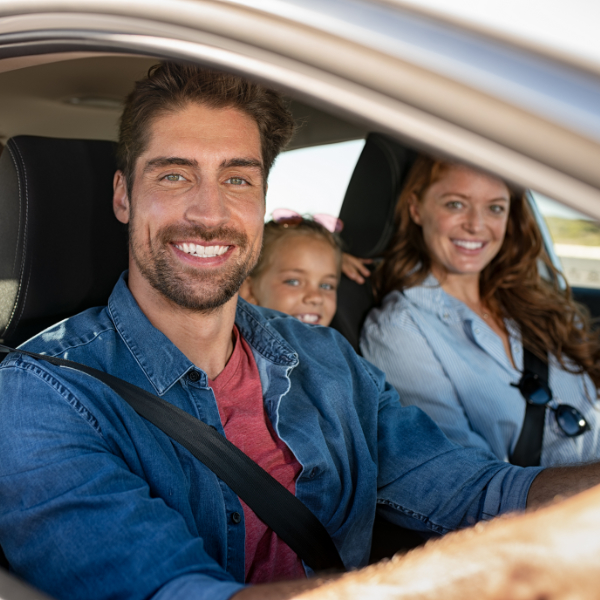 The search for family cars NI can be hard, at Carlover, we like to make the process as simple as possible. Finding the right family car can be challenging as you need to consider safety features and if there is enough space for the whole family, and if it fits in with your lifestyle.
One of the most popular questions we hear from our used car dealerships Belfast wide is 'What are the most family friendly cars?' At Carlover we understand that families come in many different sizes, that have different needs and requirements. We have created a list of our top favourite family cars to help you find the one that is right for you.
The Most Family Friendly Cars NI
Volkswagen Tiguan
The Volkswagen Tiguan is a comfortable car with 5 seats. This is a practical family car with plenty of space inside and the boot has enough space where you can fit everything you need. This car is comfortable to drive and feels secure driving on fast roads such as the motorway and has a range of safety features, including automatic emergency city braking.
Not only does this car focus on family safety, but it also has a range of entertainment features that will make those long journeys more enjoyable. This car is kitted out with an easy to use touchscreen dashboard, ApplePay and Android Auto that can connect to your favourite apps, smartphone connectivity and a built in sat-nav. There are also reversing cameras and parking sensors that help you to safely park when your children are in the back seats.
Kia Ceed
If you are searching the market for a family hatchback, the Kia Ceed should definitely be on your shortlist. This car is reasonably priced, it is easy to drive and has a spacious interior. Within this car there are plenty of useful storage spaces and a large boot that can easily fit your family's weekly shopping, luggage and other essentials.
The Kia Ceed is the perfect car for longer journeys and is comfortable to drive. There is faster steering and a firm suspension meaning that the car doesn't lean to the side at corners and absorb lumps and bumps. These features are ideal for those with younger children in the back seats.
SEAT Leon
The Seat LEON is a five seater car and is about the same size as its main competitors, the Ford Focus and the Volkswagen Golf. This car has been a big hit with families across the UK with over 250,000 sold. The exterior is designed with a slick and youthful look that will stand out from the crowd.
When it comes to spacing you will not be disappointed. This car has a 380 Litre boot that offers plenty of space for your essentials and any extra luggage. The Seat LEON is fun to drive and the car doesn't cost much to run which is great news for parents!
Honda Civic
The Honda Civic is a reliable and practical family hatchback that has been around for generations. The car's sporty exterior design helps the Honda Civic to stand out from other family car models and will turn heads when you are out on the road.
Not only is this vehicle fun to drive but it is comfortable to drive over bumps in the road due to its suspension system. The Honda Civic has a balance of feeling sporty to drive and offering comfort for all of the family. The interior of the car offers plenty of room, with a large boot that can easily fit large bags and any essentials that you need for longer journeys.
Ford Focus
The Ford Focus is a top runner when it comes to the family hatchback. This car has a spacious interior that will comfortably fit three passengers in the back seat and a large boot that can hold all of the family's essentials.
The cars sales charts are dominated by the Ford Focus in the UK due to its reliability and low running costs. If you are concerned about the safety of your family car, this isn't something you have to worry about with the Ford Focus. They have a range of safety features, including an evasive steering assist, autonomous emergency braking, two cameras and 12 ultrasonic sensors. This will help to give parents peace of mind when they are driving with their children in the back seats.
When you are choosing a car for your family there is so much to consider. Not only do you have to think about the safety of your loved ones, but you also should consider your lifestyle and the daily journeys to work and the school run.
Used Cars NI
If you are ready to start shopping for a new family friendly car, Carlover is the place to find your used cars NI wide. We have something to suit everyone's needs.

If you would like to know more information about any of the family cars we have mentioned above, get in touch with a member of our team today or alternatively you can drop an enquiry with any of the dealerships listed on Carlover.